Second
Annual Fundraiser | Silent
Auction

Please Join Us for our "Movie Stars" themed event fundraiser! Click invite for tickets!
Divinity Estate & Chapel will be the site for our second Annual Fundraiser and Silent Auction.
We will meet in the Remington Room, where we celebrate the many friends, volunteers, and community partners who have helped take litter off the streets of Rochester in 2023.
Walking For Rochester (WFR) not only helps to take litter off the streets but we also take pride in running New York State's most convenient volunteer program.
Group cleanups are a great way for volunteers to get involved in our cause. WFR also help others that are in need of volunteer hours, like clients of the Monroe County Public Defenders Office, and residents of local half-way houses. WFR delivers equipment to volunteers and track volunteers work through their free to download and use mobile app, "Walking For Rochester." This program allows those in need an opportunity to find volunteer work without having to spend money, needing a car or equipment. Volunteers pick up litter when and where its easiest for them, in their neighborhood.
Join us for fun and a great way to support Rochester, NY!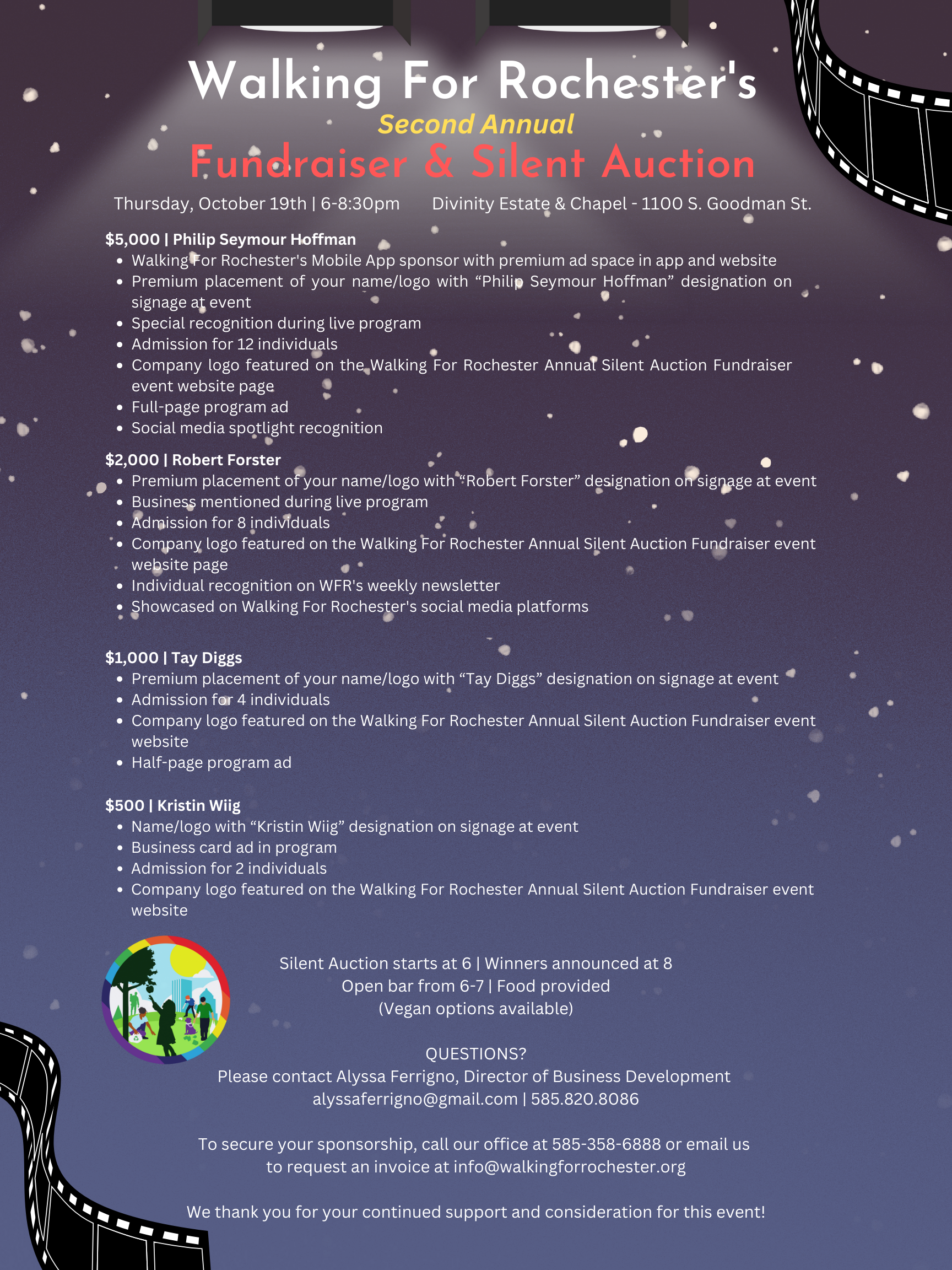 Boylan Code was founded over forty years ago, as a law practice with an intense focus on client service.
While the firm has grown significantly since then, their commitment to serving you remains unchanged. Their partners are strategically involved in all matters. They purposely remain small enough to ensure close attention to your needs, while being large enough to provide the expertise and resources you deserve across a broad spectrum of legal needs.
All at Boylan Code share a commonality of purpose. They are passionate about the idea that the right people can and do provide the intellectual strength, passion and vision to become key drivers of success for their clients.
We are honored to have their support this year as a Robert Forster sponsor! Thank you!
Check out their website at boylancode.com

Estate and elder law planning with a focus on client service and personal relationships. Pellittiere & Jonsson PLLC was formed in 2010 by Timothy Pellittiere, a former Partner in the Estate Planning Group at Woods Oviatt Gilman. Mr. Pellittiere left after 11 years to create his own estate planning and elder law boutique law firm. Kristin S. Jonsson joined the firm in 2011 after 4 years at Woods Oviatt Gilman. Ms. Jonsson also practiced in the Estate Planning Group with a concentration in Medicaid and Long Term Care Planning.
With a focus on practical solutions and personal service, Pellittiere & Jonsson helps families address difficult topics. These may include planning for one's own death or disability, caring for an incapacitated parent, addressing worries for children, business succession issues, tax planning or working through the estate administration process. All of these circumstances can be overwhelming at times and families need practical, personal guidance. The matters covered vary from situation to situation and family to family.
Thank you for supporting Walking For Rochester again as a Robert Forster sponsor! Can't wait to celebrate with you! Check out their website at www.pjestatelaw.com